As a new parent you have tons of questions about your child's health. Here are a few facts about your child's teeth that are useful.
WHEN WILL MY CHILD START GETTING TEETH?
To start with every child is unique and some genetics factor in as well. In general most babies will get their lower front teeth around 6-10 months, and their top ones at 8-12 months. After their front teeth they'll work on cutting some molars in the back anywhere between 13-19 months. While those molars are starting to come in you'll probably start seeing those canine teeth peeking through those gums as well between 16-22 months.  When all is said and done your little one will have 20 teeth all together. This first set of teeth are called primary teeth, or baby teeth.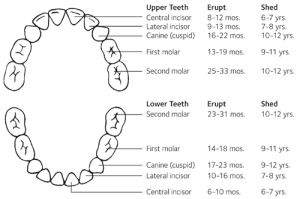 DENTAL VISITS?
When should I start bringing my child to the dentist? This is a question we hear all the time. We recommend  that you start bringing them young, once they have a few teeth, so they can get used to the dentist and hopefully not be too afraid of us. What should I expect on the first visit? Many places call it different things we call it a "Happy Visit". Your child will get a chance to sit in the big chair, touch  the instruments we use (ie. mirror, suction, water), and the doctor will count their teeth. 
WHEN SHOULD I START BRUSHING THEIR TEETH?
The American Dental Association recommends brushing teeth as soon as you can see them "as soon as teeth appear, decay can occur". They recommend the use of a fluoride toothpaste, only as big as a grain of rice two times a day every day. It is recommended to keep brushing their teeth for them until they're eight years old, or old enough to have the manual dexterity to reach all the teeth and their surfaces.